Digital platforms are constantly evolving while your customers are becoming more and more demanding, how do you advertise today to reach your customers? 
We help you reach the your target audience at the right time.
Presenting your company and your products in the digital world requires different approaches. As skilled storytellers, we have gathered the tools that help tell your story in the best possible way while engaging with your target audience.
To become a top-of-mind in your industry, you need relevant content that relates to your customer needs. 
With the help of social media, you as a business owner, have the opportunity to reach thousands of potential customers at once. Along with the right content and message, the road to new sales is not far. 
BUILD TRUST AND CREDIBILITY
In the digital age we live in, it can be said that there are two different ways of doing marketing, both intended to give you increased sales, but each with its own approach and its own advantages and disadvantages. Not sure which direction is right for your business? How about choosing the best of both worlds?
       Pull marketing
Content Marketing

Social Media

Video/Podcast

SEO

CRO

Blog
Push marketing
Cold calling

Advertising

Cold emails

Advertising

Banners
Targeted campaigns
FACEBOOK & INSTAGRAM
Facebook is one of the most effective marketing channels that can be used for the vast majority of companies. With a targeted system, you can easily reach your dream customers. Combining this with Facebook's tracking tool pixel, you will be able to run remarketing ads to those who have already shown engagement on your ads or websites.
Increase traffic and engagement with Instagram and Facebook ad campaigns. We tailor irresistible ads to attract and convert your target audiences.
Create an unforgettable story
SNAPCHAT
Storytelling is at the heart of content on Snapchat, making it an ideal platform to take advantage. Snapchat advertising also allows businesses to present themselves with dynamic images, making it easy to stand out from the crowd. Our team helps our customers creating engaging content that converts regardless of whether you are looking for more attention, increased traffic or sales.
When you choose to work with us, you don't just get one person, but a whole team! We help you from start to finish and tailor the best solution for your business.
You pay for a service, but you get much more.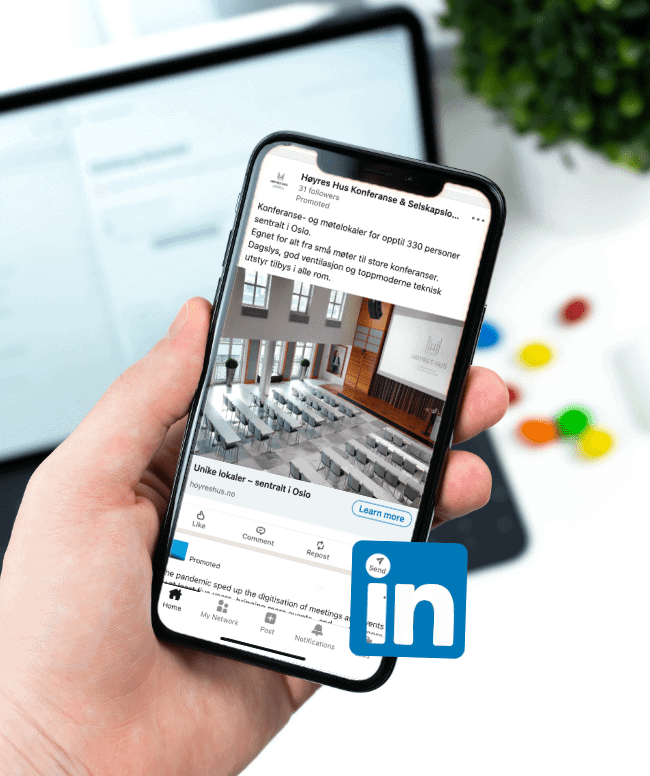 Leverage your business network
LINKEDIN
Expand your business with LinkedIn advertising. We help with everything from setting up good strategies to targeted campaigns and analyses. Achieve your goals, whether it's generating new potential customers, increasing website traffic or building more brand awareness.
Create an unforgettable story
YOUTUBE
YouTube ads that get you results!
By 2022, online video will account for more than 82% of all consumer traffic on the Internet. Build awareness and get the right traffic to your website with the help of our experienced marketers.